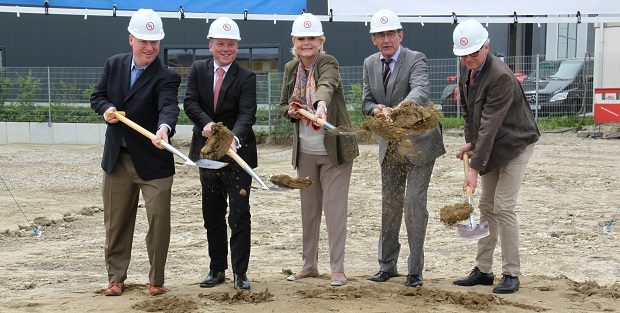 UL Begins Construction of New Fire Protection Test Laboratory in Rosenheim
FRANKFURT A.M. / ROSENHEIM, May 23, 2017 — UL, a global safety science organization, has begun construction of its new test laboratory in Rosenheim in the German region of Upper Bavaria. The new UL laboratory, specializing in fire behavior, fire resistance and smoke protection tests will be located next to the Technology Center of the Institute for Research, Testing, and Certification (ift Rosenheim). UL celebrated the start of construction today with an official groundbreaking ceremony. The Mayor of the City of Rosenheim, Ms. Gabriele Bauer, took part in the ceremony along with representatives from UL and ift.
UL is the global leader in fire protection. In the new laboratory, UL will test various construction materials that have to fulfill particular standards within Europe, like those related to smoke protection and environmental impact and durability. Together with ift, whom UL has already been working with successfully for some years, UL can now test and certify all other characteristics of windows, facades, doors and gates. Manufacturers and system providers can have products tested and certified locally for the global market and for Europe, all in one central location.
"With this new laboratory we are further expanding our testing and certification capacities in Europe to improve how we serve market demand," says Ingo M. Rübenach, Vice President DACH & Eastern Europe Region at UL. "The cooperation with ift Rosenheim allows us to offer high-performance services to European manufacturers locally, which simplifies the process by providing testing and certifications from a single source and at one location."
"UL is the worldwide leader in fire safety and testing building products for fire resistance performance. This laboratory, matched with our world-class fire resistance engineering expertise, will increase our capability in the EU, and help our clients access and enter new markets around the world," says Vice President & General Manager – Building & Life Safety Technologies Division of UL, Chris Hasbrook.
The new laboratory, which is being constructed on a site of around 4,300 square meters, is officially scheduled to begin operations in early 2018.
Contact us for more information and updates.