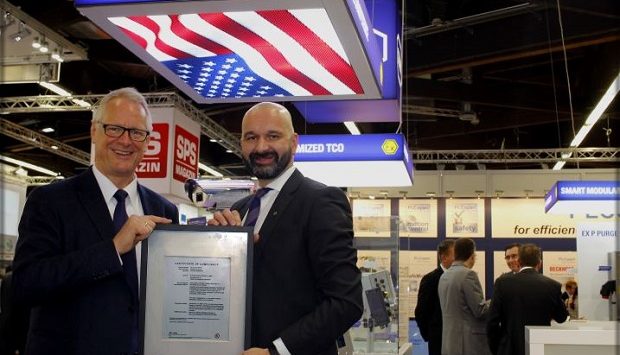 R. STAHL is now a UL Certified Panel Shop for Ex-Systems
As we start the new year, we want to share some great news with you from our customer R.Stahl who have been recently certified 'UL Panel Shop' for Hazardous Locations.
This means bespoke Ex-Switchgear solutions available pre-certified for use in North American installations.
The explosion protection specialist R.Stahl received at the SPS IPC Drives 2016 on the 23rd November 2016 the official certification recognising the R. Stahl facilities and staff competence as part of the 'UL Hazardous Locations Industrial Panel Shop Program'.
Having gone through a rigorous training and inspection procedure, R.Stahl is now able to deliver not just bespoke industrial switchgear solutions, but also solutions for systems in potentially explosive atmospheres. The Individual acceptance of explosion protected systems in accordance with the NEC (National Electrical Code – USA)/CEC (Canadian electrical Code – Canada), must be done in collaboration with a Nationally Recognized Testing Laboratory (NRTL).
For normal industrial switchgear, R. STAHL has been certified under the 'UL Industrial Panel Shop Program', ensuring the provisions of UL 508A for USA and CSA-C22.2 No. 73 for Canada are met., R.Stahl has been a respected brand in North America for generations, supplying electrical equipment to many different industries, including system solutions, machine and plant builders as well as end customers with engineering – and documentation services. The knowledge inherent within R.Stahl for North American methods of explosion protection has now been formally recognised by this latest certification from UL. R. STAHL offers in addition to UL certifications for the extensive product range, other approvals for North America , e.g. according to FM and CSA.
Picture: Martin Schomaker, Chairman of the Board of R. STAHL AG (left), received at the SPS IPC Drives 2016 tradeshow the "Certificate of Compliance" from Gert Schmidts, Sales and Marketing Director C&I EMEA (right)