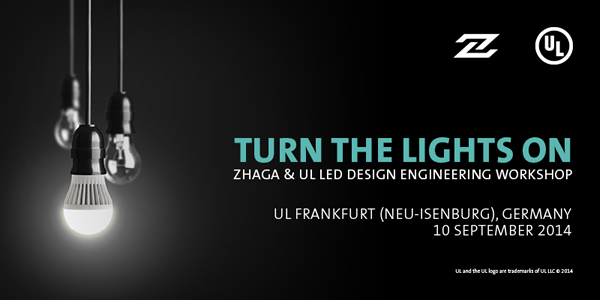 Zhaga & UL LED Design Engineering Workshop
September 10, 2014 | UL Frankfurt
Zhaga & UL are pleased to invite you to a one-day workshop dedicated to the design and certification of modular LED lighting equipment in accordance with Zhaga specifications. The workshop will also address the compliance of these products with the latest US/ IEC safety and performance requirements.
Workshop Highlights
If you would like to increase your market acceptance to the level of top US/European/Asian LED lighting manufacturers, it's important for you to know how Zhaga and UL can help you. Join our full day workshop and learn how:
Interchangeability of LED modules can help you keep-up with the evolution of LED technology (increasing your sales potential and decreasing your production costs)
Zhaga specifications can help you design competitive LED products based on a stable platform
Zhaga Testing compares with other performance programs
You can benefit from UL's intimate knowledge of the latest global safety requirements for LED products (e.g. UL safety standards for field replaceable LED light engines and holders UL/ULC 8753 and 8754 and the 8th edition of IEC 60598-1)
You can receive FREE Zhaga Certification for up to three models*
Whether your company produces LED light engines, LED modules, LED holders, LED indoor luminaires (e.g. office lighting), or LED outdoor luminaires (e.g. street lighting), our goal is to help you design your products according to international requirements so you can go to market already in a leading and competitive position.
Join us and benefit from the advantage of having one trusted partner for all your testing and certification needs.
Agenda
9.00: Welcome coffee & registration
9.30: Introduction to UL – Friedrich Bernhard
10.00: Introduction to Zhaga. Benefits of Zhaga membership. Step-by-step guidance on how to achieve certification. How to get FREE testing of your products – Joseph Frederic
11.00: Break
11.15: Technical overview of Zhaga Books – Joseph Frederic
12.15: Q&A Session – Joseph Frederic
12.45: Lunch break
13.30: New Standards for field replaceable LED light engines and holders- Joseph Frederic
14.00: New technical requirements of the 8th edition of IEC 60598-1– Walter Parmiani
15.30: Break
16.00: Zhaga and performance services at the UL lab in Burago (Milan) – Caterina Galliani
17.00: Conclusion and Q&A session – Friedrich Bernhard
* The offer is only valid prior to 31th December 2014. Other terms and conditions may apply. See a UL associate for additional details.
Guest Speakers
Friedrich Bernhard – UL Account Executive
Joseph Frederic – UL Principal Engineer Lighting
Walter Parmiani – UL Lab Manager
Caterina Galliani – UL Inside Sales
Workshop Information
Date: 10th September 2014
Address: UL Frankfurt, Admiral-Rosendahl-Strasse 9, Neu-Isenburg (Zeppelinheim), Germany
The workshop will be held in German and English and the participation is free.
Registration
Email: Friedrich.Bernhard@ul.com