UL at Interschutz 2015: The Leading Trade Show for Fire Prevention, Disaster Relief, Rescue and Security
June 8, 2015 | Hanover Messe, Germany
We  look forward to welcoming you on 8 – 13 June 2015 at Hall 13, Stand H75
UL is a global leader in fire safety testing certification, inspection and research and can help manufacturers gain access to global markets, and get safe products to market quickly.
Visit us in Hall 13, Stand H75, to learn more about dual CE and UL marking, including the UL-EU mark, a Pan-European Mark for global certification recognition, and how this can be combined with the cULus mark for manufacturers interested in selling their products in the U.S., Canada, UAE and Europe.
UL is the most trusted fire safety, life safety and security resource worldwide. Take the opportunity and meet our experts – all in one place
Our experts will be present to advise you on achieving Global Market Access for your construction or building products and fire safety certification concerns. Visit our booth to:
Learn more about our global C-UL-EU-US Mark for fire resistance products for manufacturers interested in selling their products in the U.S., Canada, UAE and Europe
Speak to a technical expert on your construction product – including doors and hardware, glass, facades, fire stopping, steelwork protection and more. In particular, with the imminent introduction of CE marking for fire doors, we will have technical experts available who have been involved in this process.
Learn about UL´s 'head to toe' PPE certification and testing for North America, Middle East and Europe
Stay informed about our UK Notified Body service for EN54
Speak to a technical expert about building inspections
Receive information about how to use UL Product SpecTM. It is the fastest way to verify a product is UL certified. The free database is accessible under: UL.com/productspec

Take advantage of UL experts during your trip to Interschutz!
If you or your staff will be attending Interschutz this year, you will not want to miss the opportunity to hear presentations from UL experts on preventive fire protection and Crises & Security.
Sprinkler Protection Criteria for Rack-Stored
Exposed Expanded Group A Plastics
Emil Misichko, Global Business Development – Fire Suppression
Preventive Fire Protection Forum, Hall 13, Stand A50
Tuesday , 13:40 – 14:00 h,
Convergence of fire alarm, security, environmental control and
building automation systems
Laurence J. Shudak, Principal Engineer
CRI!SE & Security Forum, Hall 12, D30
Wednesday, 13:20 – 13:40 h
Essential Elements of Fire Rescue:
PPE, Rescue Tools, and Fire Apparatus
Joe Waters, Engineering Manager and Christopher James, Principal Engineer
CRI!SE & Security Forum, Hall 12, D30
Thursday, 13:20 – 13:40 h
Register for time with UL experts
We will have a number of experts specializing in different fields relevant to your product or manufacturing project. Pre-register for a one on one discussion with a UL expert.
Talk to an expert, one-to-one, on the following topics
Fire Safety
Personal Protection Equipment
Rescue Tools
Building Materials
Fire Alarm
Suppression
UL Product SpecTM
Display your UL Mark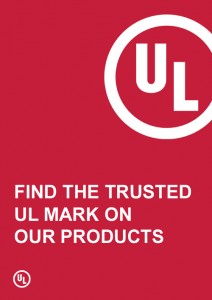 The UL Mark delivers trust and indicates a safe product. Show your customers the quality of your product and register today to receive a UL display placard. A UL representative will deliver a placard to your booth.
Knowledge & Resources
UL provides education solutions that help promote safer living and working environments,
keeping pace with new technologies and empowering customers to innovate, improve speed
to market and enhance overall product and employee safety. UL offers eLearning courses on
Fire Apparatus Safety, Extinguishing Systems and Commodity Classification.
Visit our Aerial Devices pages for additional details. Register for any upcoming courses with the promotion code "UL@Interschutz" to receive a 10% rebate.
We look forward to welcoming you at our booth
8 – 13 June 2015
Hall 13, Stand H75
Interschutz – Hanover Messe, Messegelände, 30521 Hanover, Germany
Learn more about UL and our services: Visit our pages on Building Materials, Fire Suppression and Life Safety and Security